TO INCREASE EMPLOYEE MOTIVATION

CORPORATE OFFERS
We are certain that the participation of company employees in Yerevan Wine Days will cause a wave of fantastic moods, as well as infinite positive vibes and memories. Interacting and spending time together outside the office can serve as a great impetus for more effective cooperation.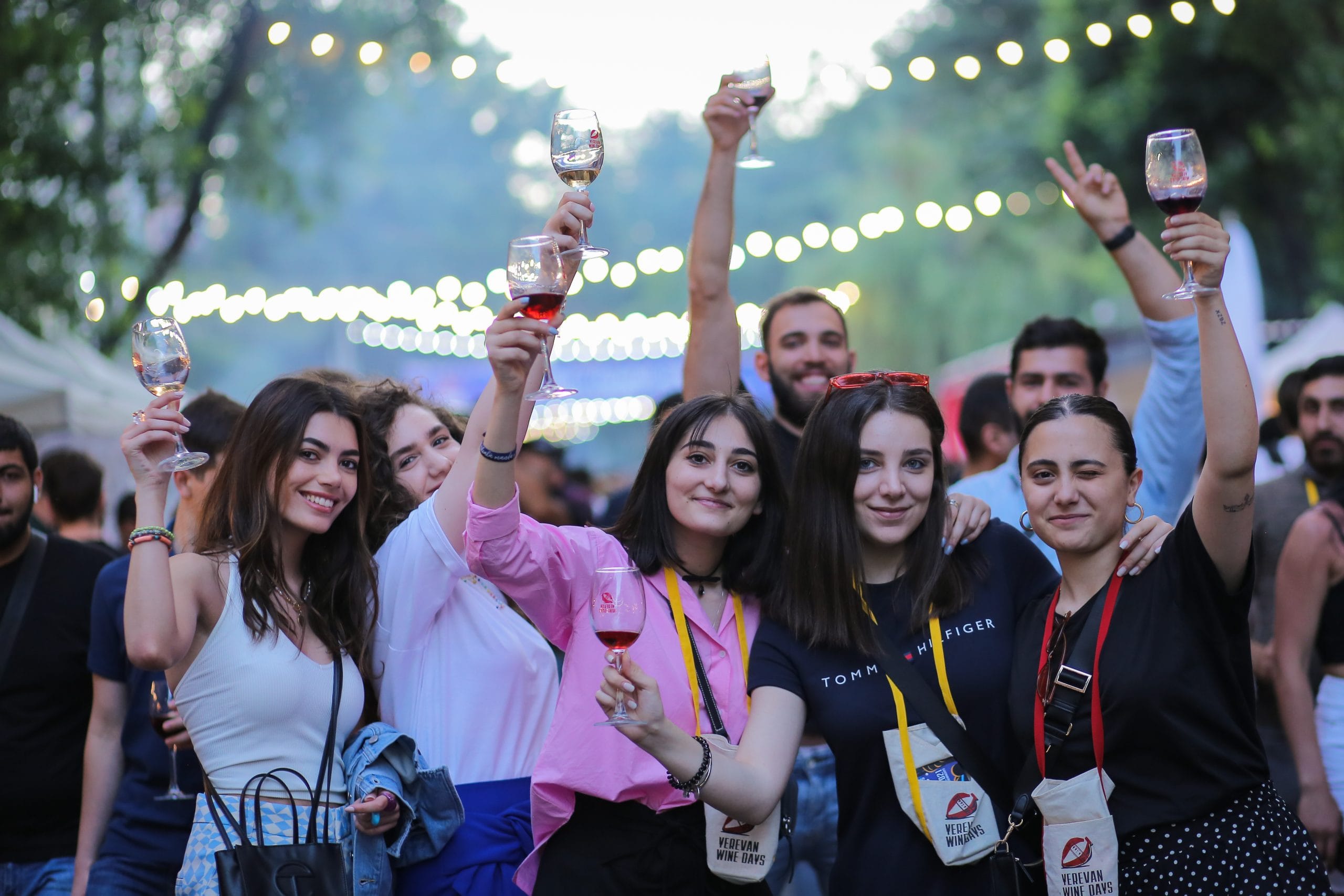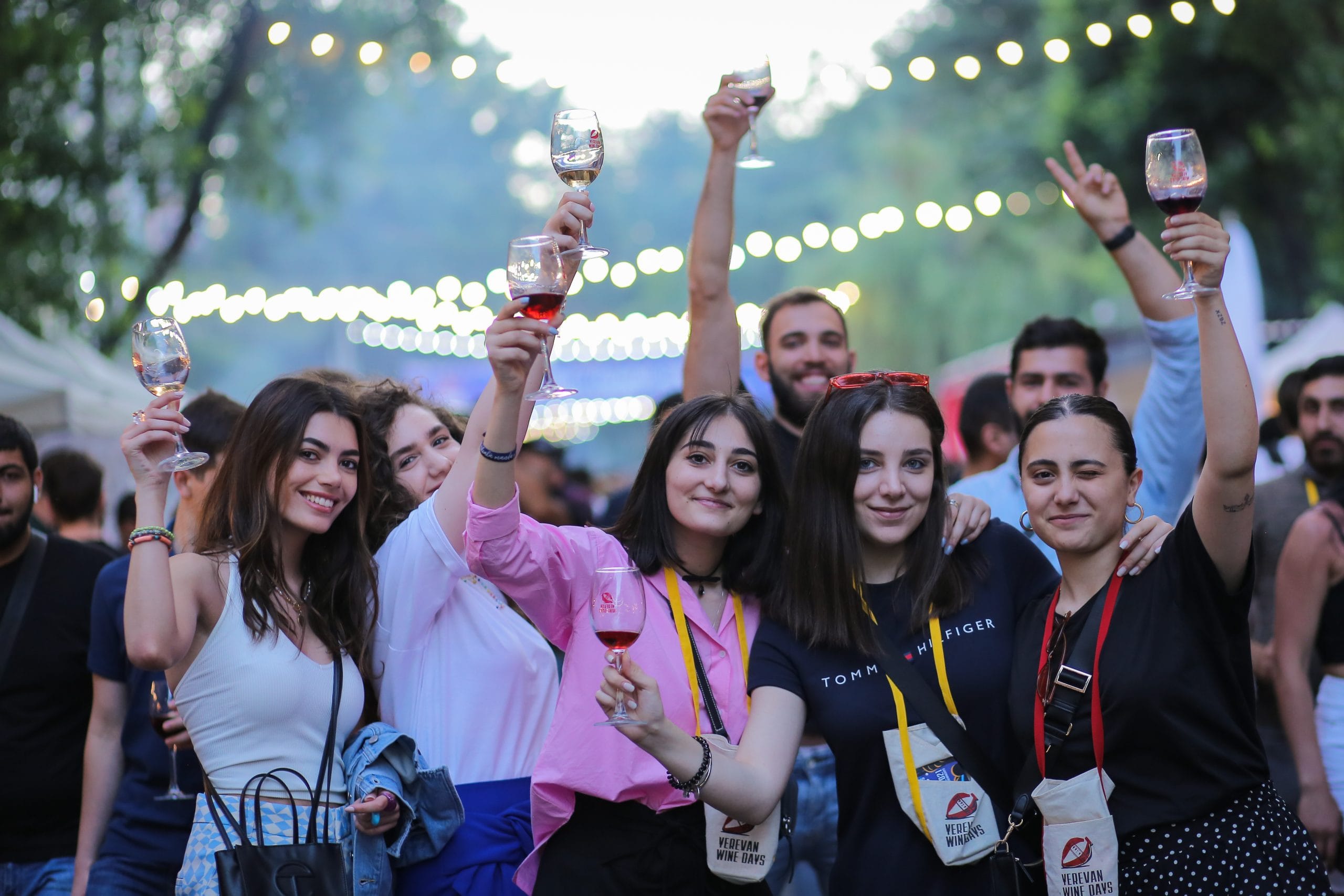 CORPORATE OFFER

Wine Enjoying Package

To enjoy wine during Yerevan Wine Days, you need to have a special "Wine Enjoying Package".

The package consists of 12 branded wine glasses, 12 tickets, a wine bag, and an information booklet with:
discount coupons for restaurants,
information about wines,
special offers, raffles and gifts from general sponsors and other partners,
with special pages featuring notes about preferred wines.
2 STAGES OF PRE-SALE
First stage: AMD 9000
1 December 2022-28 February 2023
Second stage: AMD 12000
1 March-24 May 2023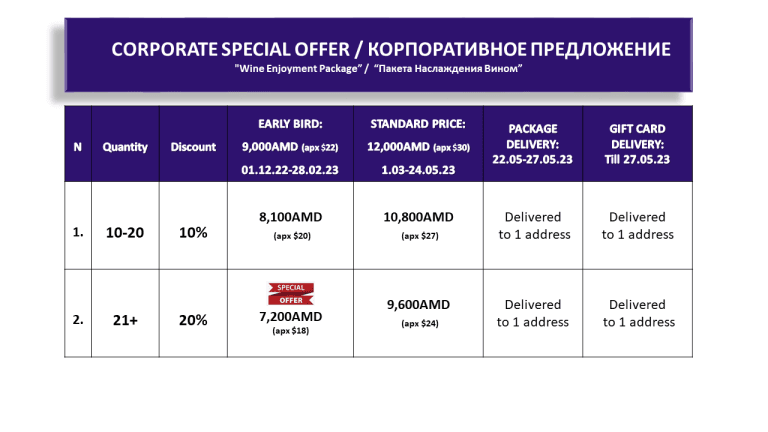 This offer is more convenient for companies that wish to give gifts to their employees and order a large number of "Wine Enjoying Packages" at once.

Currently, to give gifts to employees, you can use our GIFT CARD, which we deliver to one indicated address within 3-7 days upon confirmation of purchase. As for employees, they can obtain the "Wine Package" at pre-sale booths. As for employees, they can obtain the "Wine Package" at pre-sale booths.
The deadline for ordering is MAY 24th.
The order will be considered as confirmed ONLY after the payment is made.

You can make the payment either in cash or with credit card. If you pay in cash, you will sign a contract confirming the payment. A cash register coupon is given when the packages are delivered. If you pay with credit card, an invoice is written based on your information, and the payment is made based on the invoice.
The deadline for deliveries is MAY 27TH.
The delivery will be FREE and will be made within 1 week before the event. The packages will not be available until then.

The discounted prices are for 1 item.
All prices include taxes.
To benefit from this option of the corporate offer and to order it, follow THIS LINK.
© Yerevan Wine Days are only days away

Hurry!